Here at Winedom we don't just make lists of great tasting rooms to fantasize about, we actually visit them and learn about them from their owners, winemakers and staff.
Recently, Winedom writer Nancy Koziol spent an evening at Brooklyn Oenology, one of our top ten tasting rooms to visit, and was able to talk to owner and winemaker Alie Shaper about her wines, the space, and more.
Falling Into Wine
While for many, winemaking is a lifelong affair, passed through the family generation after generation, Alie discovered her passion for the drink accidentally having come from a family that didn't drink much at all, "my mother almost never," Alie shared when discussing her lack of memories of wine as a child other than the occasional bottle that would show up at her grandmother's holiday dinners. Shaper completed her degree at New York's Cornell University, starting out as a Mechanical Engineering major and then switching to Operations Research and Industrial Engineering. Her only experience with wine at the ivy league university, known for its Hotel School, was taking their introductory wines-of-the-world class – an elective that "seriously sparked [her] interest in wine."
It wasn't then, though, in that elective class where Shaper conceptualized Brooklyn Oenology. In fact, as recently as 2000, Shaper "didn't have any designs on becoming a winemaker right away – at that time. I was trying to find my niche in the wine business that would earn me a good salary, so that I could retire and then start a winery." In fact, she started as an engineer before moving into the wine industry in 2000. Shaper worked "in several different positions: in winery tasting rooms, in retail sales, in restaurants, and in distribution." But in early 2005 Shaper had a eureka moment not too long after moving to Brooklyn and being inspired by the borough. Shaper, in true entrepreneurial fashion, knew that if she didn't jump on the idea and "pursue it, somebody else would, so I ditched the retirement plan." And we're glad she did. Shaper spent a year developing the brand, a sound business plan, determining how to structure production and sales while also securing a harvest position for two seasons with Premium Wine Group. This allowed her to learn winemaking hands-on. Unlike many beer brewers who eventually open a brewery, Shaper never made wine at home.
Local Focus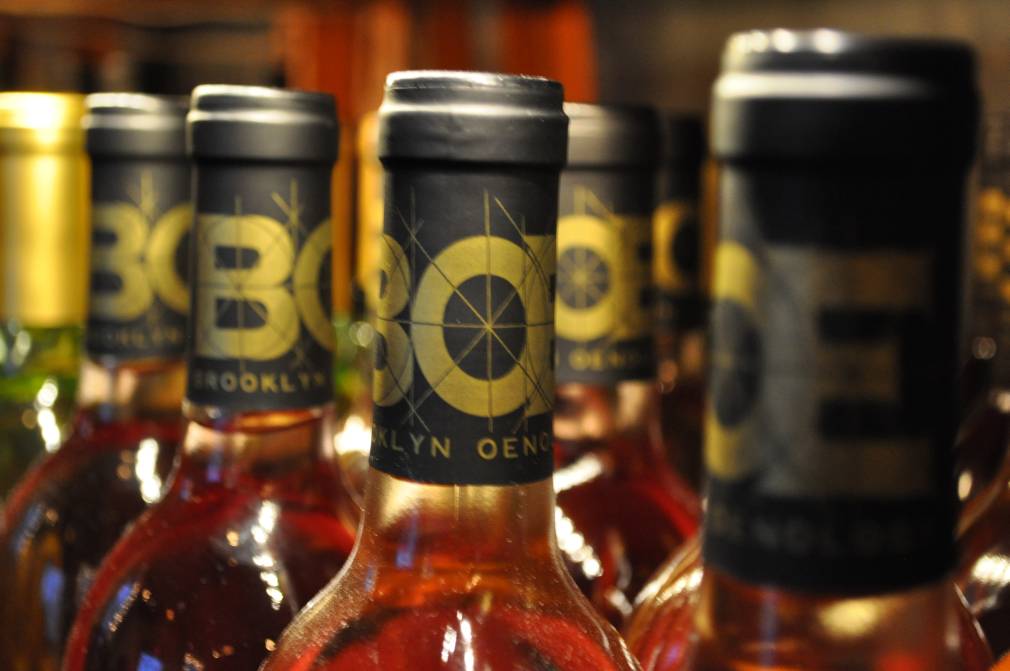 Brooklyn Oenology is a true New York brand – keeping everything within a state that has often been passed over by wine enthusiasts. From the grapes to the labels, everything is New York based. The space, located in the hip neighborhood of Williamsburg, does not have room for on site winemaking. Instead, Shaper sources grapes from two areas of New York: the North Fork of Long Island and the Finger Lakes region in Central New York (home to her alma mater). "I choose the region from where I want to obtain each grape variety according to its best expression. I select the vineyards and grapes for our productions. Some of the growers I've worked with for many years; in other years, I will try out a variety I haven't worked with before, or work with a vineyard from which I haven't bought grapes before." She looks for a site that yields grapes that are "a good representation of that variety, produces a balanced wine, and has a distinct terroir." So far, Shaper has worked with sixteen unique growers.
BOE operates as a negociant. Shaper explained that "[she doesn't] own land, and [she doesn't] own [her] own winemaking facility." Instead, she has been selective in where to invest. "Rather than invest millions into a winery, and land, and planting a vineyard right at the start of the business, I decided to rent space at another winery. Such an arrangement is called "custom crush"". It's similar to commercial kitchens: a baker can rent equipment and space to bake bread, prepare sauces, package for sale for a set amount of time and money. Shaper calls this a "pay-to-play arrangement." "I will bring my fruit to the winery, and then I pay on a volume basis to have residence in that winery, use the tanks, use the grape presses, have storage space for my maturing barrels, and bottle the wine – and they have a support staff to assist all of their winemaking clients with the work that needs to be done to make wine at every step." While she pays a fee for the space, time, equipment and support, it's all her own product and recipe. Brooklyn Oenology conducts production at Premium Wine Group in Mattituck, which is located on the North Fork of Long Island. While the winemaking takes place on the opposite end of Long Island, about an hour and a half east, "all of the hospitality, sales, and other business for the winery is headquartered in Brooklyn, in the Williamsburg neighborhood. Our tasting room is there and we service our wholesale and distribution accounts from there."
A Welcoming Space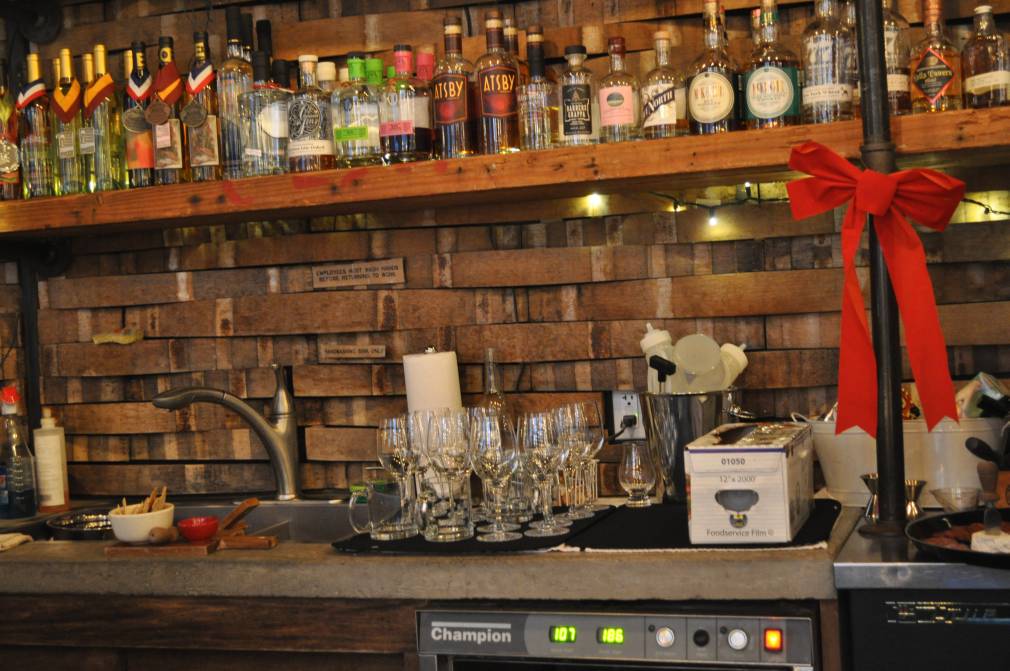 The space is located at 209 Wythe, an easy walk from the Bedford Ave stop on the L line of the New York City Subway System. If you're coming from Manhattan, it's easiest to pick up the L along 14th street and get off at the first stop in Brooklyn. You'll find a rustic, homey, clean space with a variety of seating arrangements accommodating large and small sizes. On the night I was able to visit I began on my own but eventually was joined by six others. It was easy to add stools to the large wooden tables. BOE is visited by a varied clientele, from older couples to young professionals on dates to larger groups of friends. We had one person in our group who was under 21 and he was taken care of with a good selection of non alcoholic drinks. Everyone in our group found wines and ciders that met their tastes and while no one tried whiskey, we will be back for that. The wines are fantastic and offer a broad spectrum to exceed any wine lover's expectation.
Shaper had suggested I try the 2012 Gewurztraminer and 2010 Motley Cru. I started with those. BOE provides two sizes, tastes and glasses, making it easy for someone new to their wines to try it out. They also put together flights for customers. The 2012 Gewurztraminer was one I was nervous about, not being a fan of the style usually. However, the twist is that this is an orange wine. While many critics are calling this a fad, orange wines are an interesting take on the process. Like a rose, orange wines switch up the process. It is a white wine, but treated as a red during the process, producing a completely unexpected taste. At $20/bottle BOE's gewurztraminer is very smooth, green in a good way, and spicy, with a sweetish end hinting of vanilla. It is a wine that should be in everyone's collection – or a great gift for anyone even a little interested in wine. BOE's 2012 Gewurztraminer is clearly made by a winemaker not afraid to try new things while also striving to produce a quality product rather than a novelty bottle.
The Motley Cru, a red made from grapes grown in the North Fork was exceptionally good. It is Petite Verdot, Cabernet Sauvignon, Syrah, Merlot blend that is incredibly smooth. Each varietal brings a perfect balance to the nearly purple wine. It has an amazing light leathery taste. It is round with spice, berries, and pepper. It is different from most reds and considered a favorite of many New Yorkers who know their wine. The oak gives a sweetness that is hard to put your finger on, we spent a great deal of time with staff member, Cristina, discussing the complexity. The barrels provide a slight caramel, more than vanilla, sweetness.
We tried several wines, all exceptional, but another group favorite, hands down, was the 2012 Shindig. This award winning wine (it took the Silver at July 2013's Atlantic Seaboard Wine Association Competition) is a collaboration with Vino50, a portfolio of American wines curated by sommelier Andrew Stover. He commissioned this wine to draw attention to the excellent wines coming out of Central New York. It is described as "an ideal clean, zippy, fresh white with balanced fruit." This is the perfect wine to serve chilled at a summer fete or while enjoying a lighter meal of fish or poultry.
More Than Your Neighborhood Tasting Room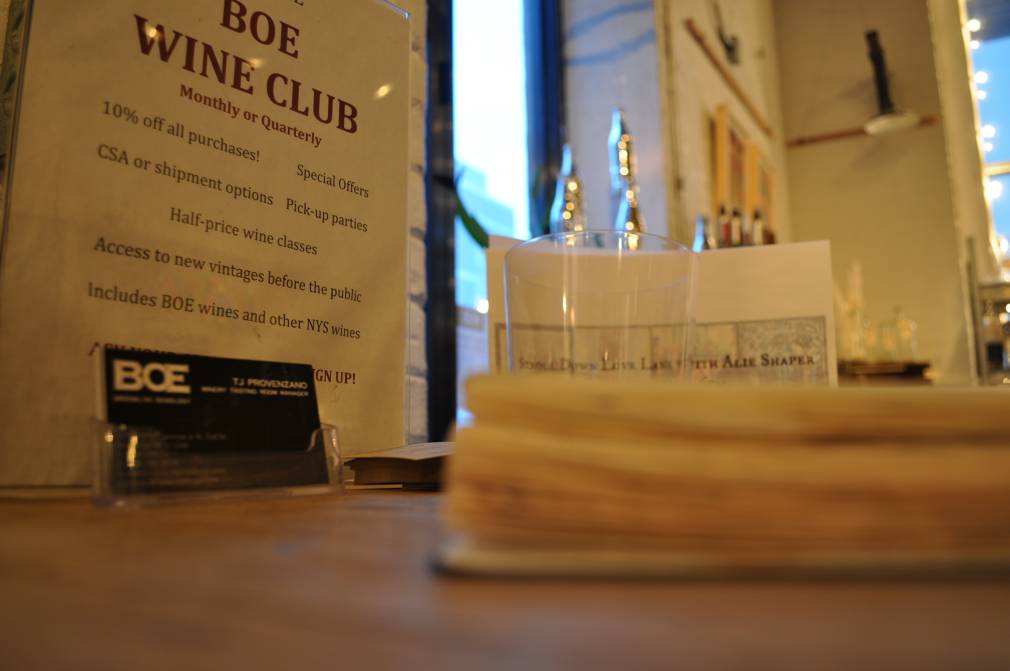 BOE isn't just a brick and mortar spot for tasting and the business end of Shaper's business, it is part of the Brooklyn community and holds, as one of its central tenets, the celebration of the Brooklyn arts scene. Labels of their core brand have a different artist's piece on their label and BOE sponsors art-related causes, be they visual, music, film or arts education. Artwork around the tasting room is also by local artists.
The space is comfortable, warm and inviting. Shaper shared that it was only the third space she visited when looking at location options. The building, completed in 1903, was built with beams made out of the trunks of entire trees, the brick walls are two feet thick and it boasts beautiful tall windows. Like much of the neighborhood, it's an old warehouse (Williamsburg is an industrial section of Brooklyn with many of the residences, retail spots, restaurants and other spaces being renovated warehouses). Shaper wanted "an aesthetic that was rustic-farmhouse-industrial" and has achieved it beautifully. Her favorite aspect of the design is "that none of the furniture matches, but all of the pieces work together," which is true. She has successfully blended a feel for Brooklyn's industrial past with a warm rustic space that clearly has a vineyard feel without wine-related artwork or kitsch.
The staff, we worked with Cristina during our visit, experience ongoing training on a variety of levels, with the initial focus on the production, philosophy and grape varieties that make up the BOE brand. When hiring, the team looks for candidates that already have some experience in wine, hospitality or the food industry so that they have a strong foundation. Cristina knew the wines as well as if they were her own and helped us make selections based on our particular tastes. "We also provide specific training about how and why New York is a successful winegrowing and winemaking region." this was evident throughout our visit as two in the group had no idea that such excellent wines were being produced in New York State from New York grapes. All staff learn about and taste each non-BOE product sold – wines from other New York State Producers, New York whiskeys, ciders, gins, beers, liqueurs and more. Shaper includes staff throughout the winemaking process. "As I am blending new wines, I will have the staff taste different permutations to hear their thoughts and opinions on them. We also take trips to Premium Wine Group during the harvest season for a comprehensive tasting and tour of the winemaking process.
The Future And Importance of New York Grapes and Wines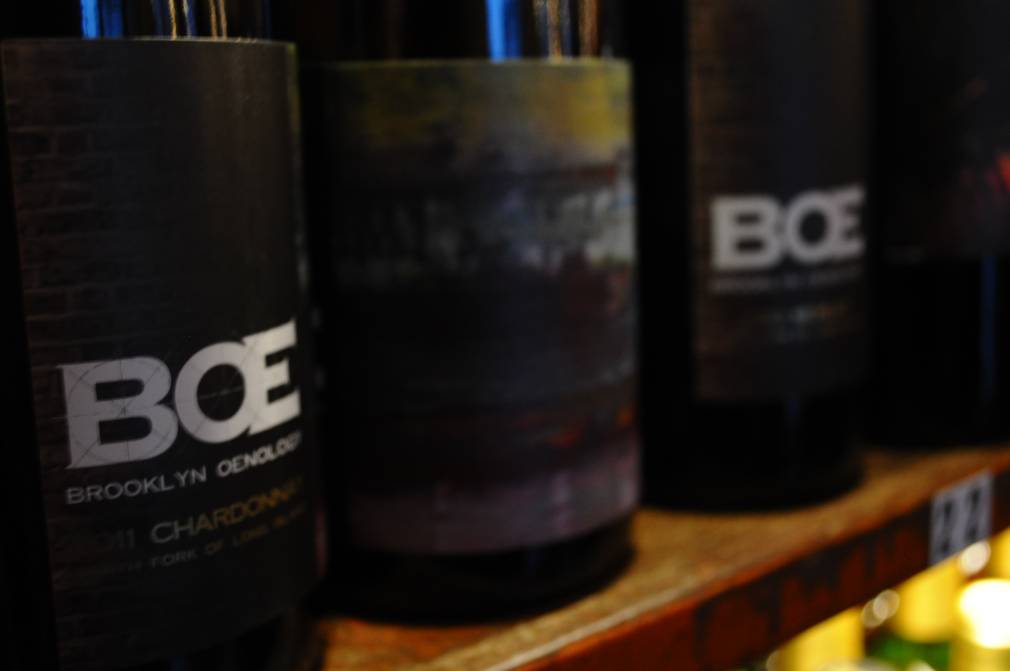 Shaper clearly views her business as more than simply a wine brand with a tasting room, but rather a place to develop a varied brand of phenomenal wines and challenge traditional winemaking and opinions. She is open to all regions and a staunch advocate of New York wines. She believes in understanding how terroir and other environmental factors influence the grapes and their tastes and using methods to make the best of those factors. "Making wine is the art of delicately mastering a number of variables over which you have no control, and most of those variables have to do with Mother Nature."
Shaper is patient and persistent, reminding wine lovers that wine is a process. Even in this day of instantaneous results, wine is slow, and it can take years to develop a perfect batch. Shaper compares producing excellent wine from a region to being a chef. "Such a person has three meals a day to prepare, so you can make an omelette everyday for breakfast, and have a chance to do it over again every single day, until you get it exactly right. There is only one crop of grapes every year, so vineyard managers have only one season per year to train their grapes. Winemakers have only one chance per year to ferment each of their wines. A chef can complete 21 meals in a week; for winemakers and grape growers, to produce that many "batches" translates to almost have of their working lifetimes." This perfectly illustrates why "both producers and consumers need to have a long-form view of the process. It takes decades for a region to amass the collective knowledge of understanding a region's climate patterns, soil types, vine training regimens, winemaking protocols, choice of grapes to even plant in the first place, that will make the region as successful as it can be." Shaper is well aware that New York may not have the amount of history as France, Italy and the rest of the Old World regions but has the patience to appreciate the effort that goes into developing a new region and to continue to study and review the wines of the developing and maturing regions. It is an ever changing landscape. "What a wine region was doing ten years ago is not what it is doing now." That said, going back to the idea of New York as a newer wine region starting to get recognition due to winemakers like Shaper, "I've been a part of the New York wine scene… for 15 years. I've always had faith in it, because I made a point of making myself intimately familiar with the producers and their products, and tried to learn as much as I could about both the success and failures of their winemaking efforts." Shaper has tasted both the okay and the fantastic and has grown a personal collection of New York bottles, many of which she has continued to keep in her collection because they age well. Early on in her career she decided that if she were ever to make wine, she'd do it in New York. Shaper finds that there are several New York regions with distinct terroirs and specialties in grapes and styles. New York wines suite her palate, "the taste European, and it was the style of wine I would drink myself." Because New York is just emerging as a wine destination Shaper shares the excitement of many New York winemakers, "It's very satisfying and exciting to be a part of a regional industry that is maturing and rapidly growing – it's like surfing on a big wave, bombing for the shore.
The end of our conversation, like so many, focused on the future. Shaper has several special projects in the works and while she won't share yet she encouraged us to stay tuned – and we will. You should, too. You can visit the tasting room in Brooklyn or stay in touch online.
Read more about Brookly Oenology: Website – Facebook – Twitter – Instagram